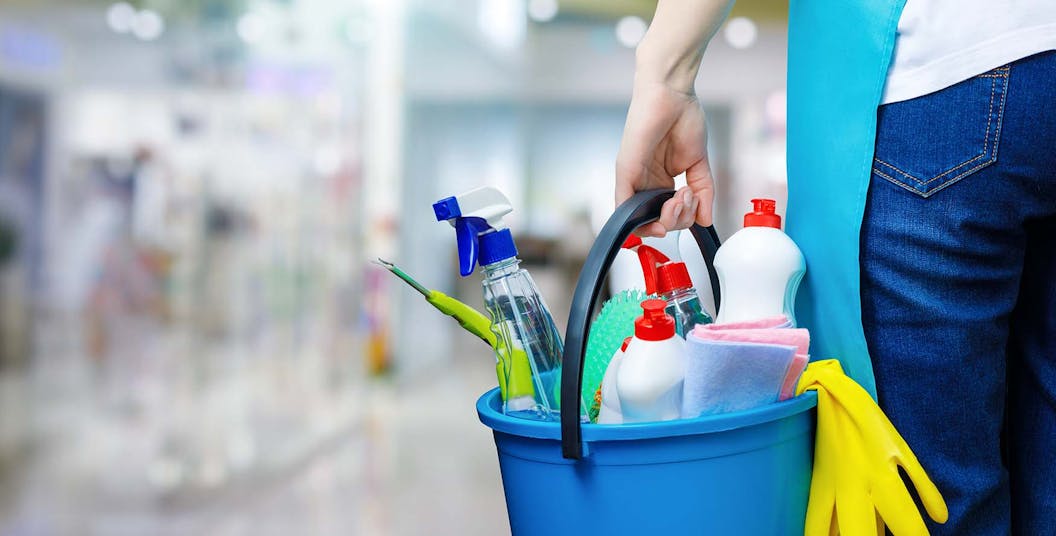 At least once a week, most Australians and Kiwis will arm themselves with a bottle of store-bought, multi-purpose spray and get to work. From kitchen countertops to bathroom floors, every inch of the home is left squeaky-clean and ready to impress.
But what if our cleaning efforts are doing more harm than good?
Do you really know what's in your cleaning products?
It's already pretty clear that ingesting household cleaning products is not the smartest idea. 
But that's not what we're talking about here… Although, it is worth mentioning that a whopping 2500 Australian kids are admitted to the hospital each year for poisoning (caused mainly by products around the home).
But aside from the obvious dangers involved in using commercial cleaning products, there are other harmful effects that are quietly being swept away under the rug - so to speak.
The harmful health impacts of chemical household cleaners
Household cleaners can contain lots of nasty known chemicals that can affect our health. What's even more concerning is that many ingredients inside these cleaners remain untested (1, 2)!
Several studies have shown that cleaning workers who are regularly exposed to cleaners and disinfectants are at a much higher risk of developing asthma. There is also a lot of evidence that using household cleaners around young children increases their risk of suffering from asthma and wheeze.
But that's not all.
When we clean our home with commercial cleaning products, we release Volatile Organic Compounds into the air – or VOCs for short. 
VOCs are a large group of poisonous chemicals that dissolve quickly into the air and are easily breathed in. They also dangerously react with other particles already floating around in the atmosphere.
A growing amount of evidence is finding a link between VOCs and more serious diseases like cancer. 
Considering that many of us spend a lot of time indoors – this is more than a little worrying.
Some common household products that include high amounts of VOCs include bleach, spray cleaners, dishwasher detergents, oven cleaners and air fresheners.
Commercial cleaners and the environment
Another problem with heavily chemical-laden cleaners is that they pollute the beautiful planet we call home.  
When we use household cleaners, chemicals are often washed down the drain pipes and into rivers and streams. This not only pollutes our waterways, but it can also kill wildlife. 
This all may sound a little daunting and ominous – but fortunately, there are other solutions to leave your home sparkling clean - without harming your health or the planet.
Limit your exposure
Of course, it's impossible to completely eliminate the wide range of toxins and pollutants that you come into contact with each day. But there is plenty you can do to limit your exposure. 
Because household cleaners can significantly contribute to air pollution, one of the easiest ways is to make a simple swap with the cleaning products you currently use. 
Australians own six to seven household cleaning products, on average. So, we don't blame you if you want to continue using the products you have. Our best piece of advice here would be to ventilate your home when you clean. 
Simply open as many windows and doors as you can, allowing fresh air to flow through your home. And minimise the amount of time you spend cleaning in small, confined spaces.
Natural cleaning products
However, if you're prepared to ditch the dirty products, then we're all for it!  
There are many natural, non-toxic cleaning products that can be made at home. 
If you're prepared to do it old-school then - good on you! All-purpose cleaner, soft scrub cleaner (for bathrooms and tubs), window cleaner and even car cleaner can be made from a few simple, completely natural ingredients.
Essential oils such as tea tree, peppermint, eucalyptus, lemon, or lavender can be used to add a natural scent that will instantly freshen up your home or car. These essential oils can be added to a base of natural cleaning ingredients. 
Not only do these essential oils smell great, but they have also been extensively studied and used for their antibacterial and anti-fungal properties (1,2). This means they can effectively fight off nasty bugs, making them a great additive to any homemade cleaning product. 
Common natural base ingredients used in many homemade cleaning products include vinegar, baking soda, Castile soaps and lemons. Doing a quick, simple search on Google for homemade natural cleaning product recipes will generate a ton of results that will guide you through making your own.
Buying natural products online
If you don't have the time to make your own products at home, you can opt for the simpler option of buying natural products online. But buyer beware! They aren't all made the same – or are as eco as they claim.
So, it's important to know what to look for. 
We suggest that you choose products that are ammonia and bleach-free. And try to avoid cleaning products that mention the word phthalates or fragrance – which may both be harmful to you and your family's health. 
To make it easier for you, we've selected some of our favourite products. We specifically source only the most transparent and sustainable brands, bringing you affordable and easy-to-use products. All of our products are available online here at Cow & Coconut.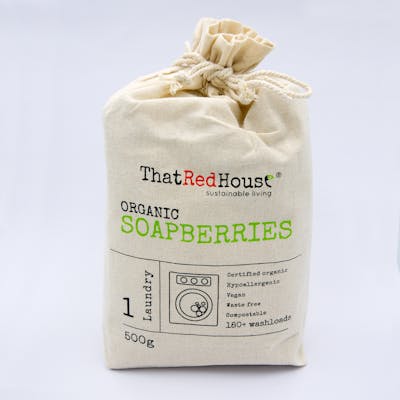 For Laundry
Organic Soapberries
The shells of soapberries contain a high concentration of 'saponin', which is commonly known as nature's soap. Grown in the Himalayas, this incredible fruit is collected, dried and beautifully packaged for you to use.  
This 1kg bag is good for 365 washes. That's only 11 cents per wash! 
100% natural, organic and waste-free – this product is a perfect swap for your standard, chemical-riddled laundry detergent.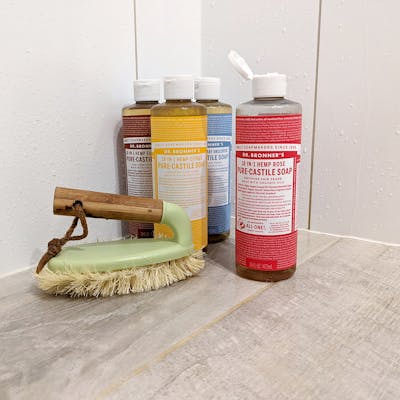 Multi-Purpose Cleaning
Pure Castile Soap
With 18 uses in one bottle, this pure Castile soap by Dr Bronner's can replace almost any chemical cleaning product on your shelf. 
From washing the floors to cleaning toilets - to cleaning dogs and little humans – Castile soap does it all!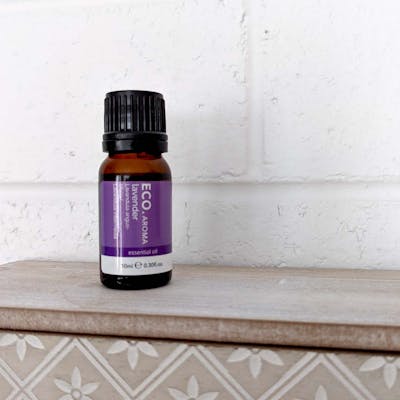 Essential Oils
If you want to make your own household cleaning products, then our essential oils are the way to go. 
There are three gorgeous scents to choose from – lemon, lavender or chamomile. Or collect them all to freshen up the smell of your home. 
Simply add a few drops to your natural homemade cleaning product and you're good to go.